The LBA Board
Our board comprises top minds in business and technology; experts in the financial, scientific, and legal realms; and academic leaders with an eye for practical impact.
Investor Partnerships
Sunstone Management and partner funds harness investment and capital management resources to maximize mutually beneficial opportunities and strategic investments in companies of local and global entrepreneurs.
The Institute for Innovation and Entrepreneurship
The Institute for Innovation and Entrepreneurship at California State University at Long Beach focuses its teaching and mentoring toward building a local technology ecosystem.
City of Long Beach Economic Development
City of Long Beach Economic Development partners with LBA through business attraction initiatives and workforce development programs that assist companies in locating in Long Beach, like access to a skilled tech workforce, space to locate, and working through governmental processes.
In just a short time, the companies in the LBA's first six cohorts have produced extraordinary traction:
37
Cohort Companies Graduated
$28M+
Investment through LBA and other investors since February 2021
$12M+
Cohort revenue since February 2021
Your engagement opens avenues for
revenue, partnership, and growth.
Seven
Acquisition offers to purchase cohort companies
Curriculum and Custom Engagement
For startup principals, the core of the Accelerator program entails a 3.5-month intensive immersion in all phases of building out a viable enterprise. Weekly workshops delivered by recognized experts in their fields, and ongoing mentorship, as well as a speaker series, are tailored to each participating company and their stage and needs. The final weeks center on developing an effective exit strategy and prep for demo days. The cohort-based program is an interlocking and progressive program designed for maximum acceleration in the process of learning, building, and scaling companies.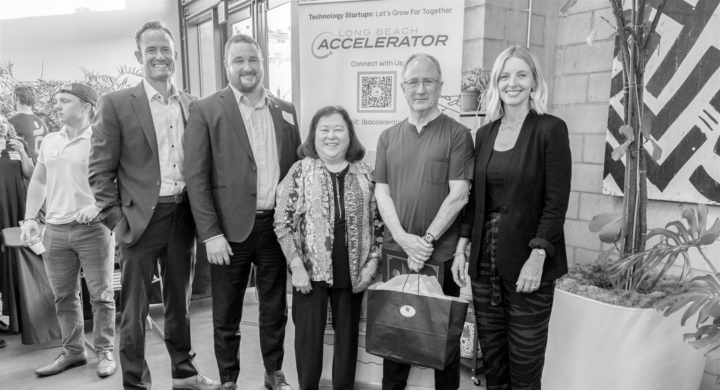 The City of Long Beach has the Climate for Growth and Enrichment
---
Situated at the nexus of Los Angeles and Orange counties and at the gateway to the Pacific, Long Beach has been a hub of globally important commercial and industrial innovation since its founding.
7th
Largest city in California
10th
Best city in the US for Women in Tech 2021
1,700+
STEM-related degrees conferred by CSULB in 2017-18
Opportunities to Join Us!
---
The Long Beach Accelerator program brings sponsors, investors, service providers, the community, and technology startups together in a unique partnership. Be at the leading edge of the tech ecosystem and see the direct and meaningful impact of your contribution.
We work with each organization to provide sponsorship opportunities that meet your objectives. Please refer to our sponsorship package levels for an outline/starting point.
Our LBA team will meet with your investor team to customize a partnership that engages your organization in events, and connections to our entrepreneurs, leaders, and community.

Apply for Sponsorship
Join us and help drive the future of tech innovation in Long Beach. Gain early access to LBA startups.  Provide thought leadership for LBA events. Gain visibility and recognition within the early stage venture and startup community. Start the process by filling out the form below.
LBA Calendar
Join the Long Beach Accelerator as a sponsor or investor and see the direct and meaningful impact of your contribution. Your engagement opens avenues for revenue, partnership, and growth. Key events are coming up!
Weekly
Weekly cohort programming, including "Lunch with Leaders" speaker series
Social media postings
Monthly
Tech Innovators and Investors Newsletter
Investor pitch practice
Media releases
Quarterly/Annually
2x/cohort, 6x annually: Demo Days
"We are Long Beach" Tech Ecosystem Champion Innovation Event: Spring 2022