Cohort Spotlight | At Their Side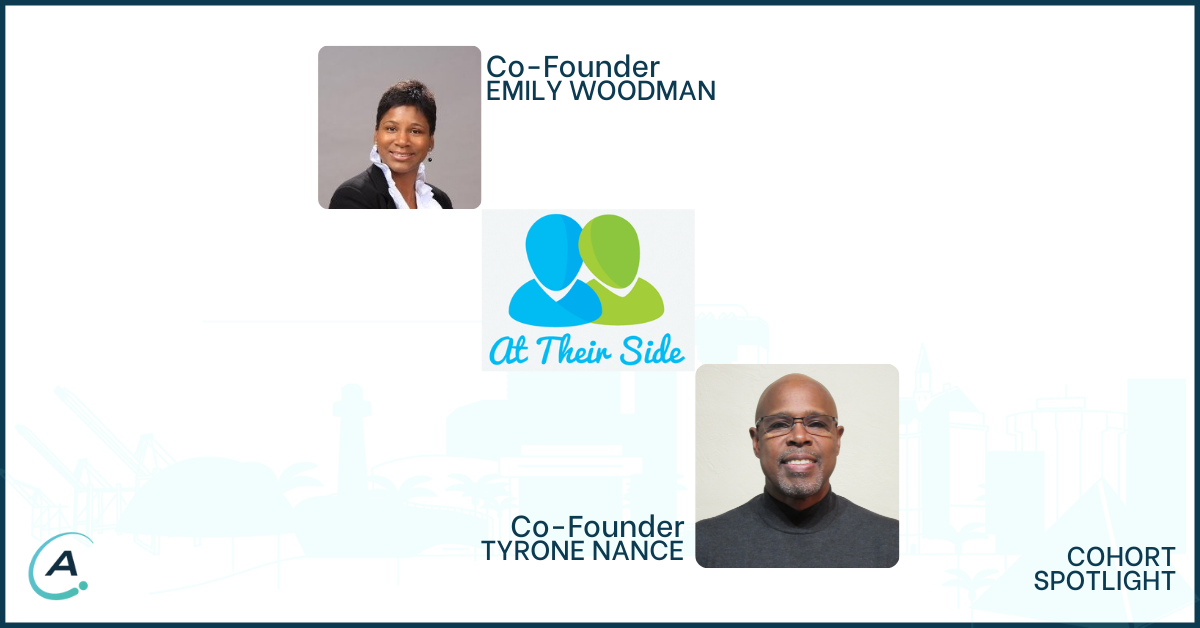 Introducing At Their Side
Founders Emily Woodman-Nance and Tyrone Nance founded At Their Side in Long Beach, California to better connect family members with those in long term care facilities. At Their Side is a health-tech B2B SaaS solution that allows healthcare providers to easily and efficiently communicate with families. At Their Side connects family members with their loved ones as if they were At Their Side. 
Connect with the Founders of At Their Side:
Emily Woodman-Nance | Tyrone Nance
Connect with At Their Side:
https://attheirside.com/ | LinkedIn | Twitter | Instagram | Facebook
In conversation with At Their Side founders Emily Woodman-Nance and Tyrone Nance
How did you come to be an entrepreneur? 
After obtaining vast experience working for Big 4 consulting organizations for years, we learned how to take technology solutions from conception to launch and concluded that a natural evolution of our careers would lead us to entrepreneurship.

We came to be entrepreneurs for At Their Side out of a personal experience where we had a loved one who resided in a skilled nursing facility on the east coast and we were unable to obtain timely updates regarding their care.

How did you learn about the Long Beach Accelerator and what attracted you to apply and subsequently join the program?  
We learned about the Long Beach Accelerator (LBA) from one of the board members. We had an MVP before applying for acceptance in the LBA, who could help us establish a partnership with a facility to conduct pilot testing to harden our solution; however, we were challenged with obtaining contacts. Our research determined that the LBA could offer a significant amount of access to leaders and influencers across a variety of industries. Applying for acceptance in the LBA seemed like a great opportunity to leverage the vast network of resources to help us strengthen our strategy for obtaining connections to decision makers in the healthcare industry and also enable us to refine how we communicate the problem and business proposition our solution will address. We anticipated that the LBA team would also better prepare us for pitching our proposition to investors and mentors.
What aspect of the Long Beach Accelerator Program have you found most valuable to the growth and accelerator of your company and why? 
The mentors' guidance related to refining the problem we are solving and understanding that there are other verticals that would be ideal for our solution has been very beneficial. We were able to efficiently communicate our problem and solution in a clearer way. Another valuable benefit has been the coaching we received that enabled us to understand how to better establish and justify our price point for subscription to our service.
Have you reached any exciting milestones since joining the LBA?
The most exciting accomplishment is that we achieved one of our foremost objectives of signing a letter of intent with a care facility to participate in a pilot test to harden our solution with real care facility data.
What would you share with a startup founder that is considering applying to the Long Beach Accelerator?
I would tell the startup founder to be open to coaching and mentoring feedback that might prompt them to rethink some of their assumptions. I would also tell them to be available to complement the investment of time provided by the mentors and coaches. Additionally, I would communicate that there is a lot of work required to complete the program but the rewards regarding being able to connect with other company founders and the LBA team is priceless and worth the effort they will invest.