Cohort Spotlight | Plauzzable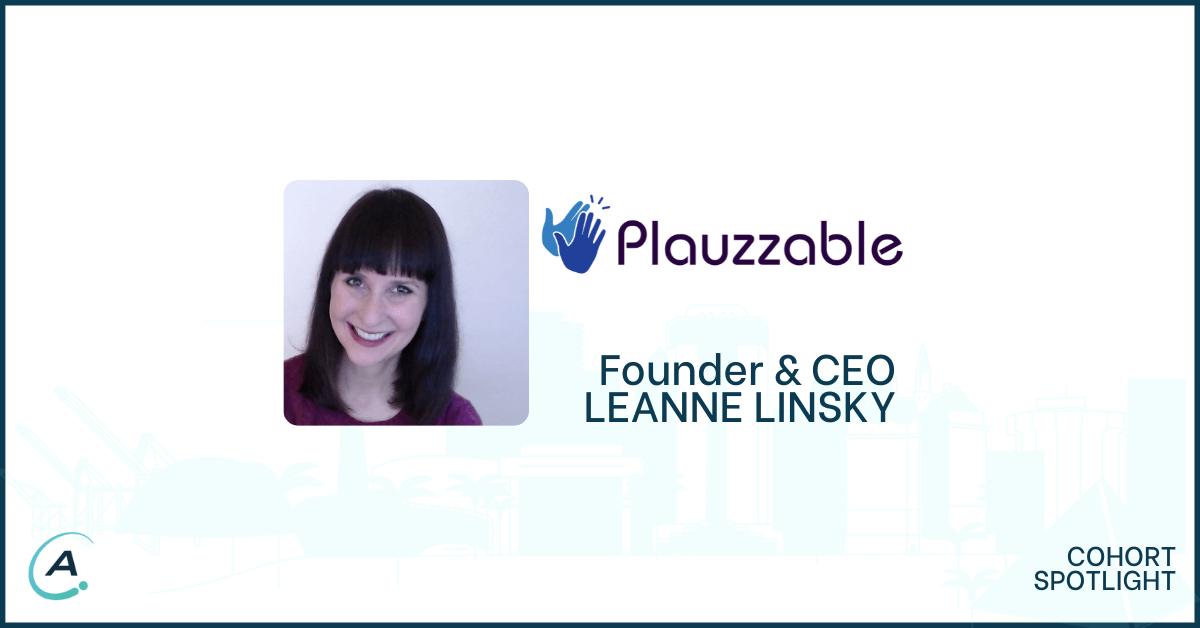 Introducing Plauzzable
With years of experience in New York's comedy and theater industry, founder Leanne Linsky took to the internet to create a space where entertainers and comedy aficionados alike can engage in open mics from the comfort of their home. Seattle-based Plauzzable is a MediaTech and EntertainmentTech company and is an online live entertainment platform transforming real-time engagement between comedians and their fans.
Connect with Founder, Leanne Linsky
Connect with Plauzzable | Website | LinkedIn | Instagram
In conversation with Plauzzable Founder, Leanne Linsky
How did you become an entrepreneur? 

Growing up I was told to get a good job with a great company so someday I could retire from it. So I did. After many years and several good jobs, I realized that staying at one company for 30 years was highly unlikely. Fourteen years in the homebuilding industry equipped me with just enough grit and determination to pack two suitcases and move to New York to pursue acting and comedy. With roughly four to five years of training at The Second City Training Center and numerous classes and improv intensives at Upright Citizen's Brigade (UCB) and IO Chicago, I jumped right into a red ocean of millions of aspiring actors. I immediately immersed myself into the scene, continued my comedy studies at UCB and Magnet Theater, and began to create opportunities for myself. I ran an open mic for 7.5 years, produced a weekly stand up show, and eventually wrote, performed, and produced my critically acclaimed one-woman show at The Peoples Improv Theater in New York, and then in the Capital Fringe in DC, Fringe Wilmington in DE, and again in NY for the United Solo Festival. I hustled, was cast in some off-off-Broadway shows, worked with a few great agents, and booked some commercial work.

In 2015 I moved to Long Beach, California. I continued producing and performing weekly shows, co-hosted a podcast for 100 weekly episodes, and found myself missing my NYC colleagues. I decided to take my open mic online. After several months, my regular comedians suggested that I charge for my services. It was then that I realized I might really be on to something. It was the perfect opportunity to put all my experiences to use and create something to change the way we connect and entertain. I wanted to grow this from an idea into a real scalable business, but I needed help. I applied and was accepted into the Master of Innovation and Entrepreneurship program at the University of California, Irvine. Upon graduation I was accepted into the Wayfinder Incubator which led me to the Long Beach Accelerator. And here I am, incorporated, funded, and building my team.

How did you learn about the Long Beach Accelerator and what attracted you to apply and subsequently join the program? 
I learned about the Long Beach Accelerator while participating in the Wayfinder Incubator. I eventually met Chris Halliwell, board member for LBA, and was immediately inspired to complete my application.
What aspect of the Long Beach Accelerator Program have you found most valuable to the growth and acceleration of your company and why?
There are a number of reasons I was attracted to the LBA. I had been a Long Beach resident from 2014 until Fall 2021 when my partner and I were relocated to Seattle. The Accelerator's partnership with both California State, Long Beach and the City of Long Beach brings an abundance of additional resources, connections, and support. Although it's new, the Long Beach Accelerator has a great reputation. They already have the results to back it up. Of the 20 cohort companies, they've received 3  acquisition offers, generated over $1M in revenue, and exceeded $4.5M in investments.
Can you share an exciting accomplishment or milestone your company has reached since joining the Long Beach Accelerator?
The LBA has given me the financial opportunity to finally grow my idea into reality. And as a woman-owned startup, I am especially appreciative of the diversity represented among its leaders and founders. There are a number of reasons I was attracted to the LBA. 
What would you share with a startup founder that is considering apply to the Long Beach Accelerator? 
The value isn't one thing as much as it is the whole package. The LBA keeps in close contact with each of us creating a community where everything seamlessly feeds into each other to keep me moving forward.
Since joining the Long Beach Accelerator, I have incorporated and formed my board of directors, rebranded, improved my financial model, and I'm now recruiting and onboarding my team members.
The Long Beach Accelerator is the real deal. If you're looking for feedback and guidance to help propel your business forward, this is it. Bring an open mind and a willingness to learn, and be prepared to hit the ground running. The icing on the cake…the connection among a cohort of like minded entrepreneurs.