LBA Celebrates National Black Business Month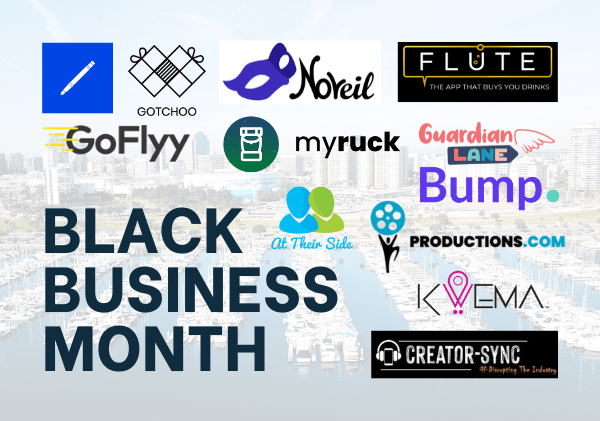 August is National Black Business Month and the Long Beach Accelerator is proud to celebrate and support our Black owned businesses and entrepreneurs, this month and every month! 
Get to know our founders and their startups: 
At Their Side founded by Emily Woodman-Nance and Tyrone Nance
At Their Side is a 24/7 healthcare status platform that enables healthcare providers to communicate with families, allowing staff to dedicate more time to providing care rather than being occupied with phones.
---
Class Chat founded by Emanuel Tafese
Seamless, Secure, Organized communication for all.
---
Creator Sync founded by Phoenix Red
Creator-Sync is a music app that partners music artists with some of the biggest influencers around the world to generate streaming revenue through exclusive content via our patent-pending revenue sharing model.
---
Flute founded by Deshon Owens and Marvin Woolard
The app that buys you drinks!
---
GoFlyy founded by Joresa Blount
GoFlyy powers premium tryon experiences for fashion ecommerce brands.
---
Gotchoo founded by Ashton Elizabeth and Brian Robeniol
Gotchoo is a simple online gift giving service that is better than a gift card.
---
Guardian Lane founded by Kristina Jones
Guardian Lane is the first on-demand content platform for children's counseling to help 34 Million children affected by Adverse Childhood Experiences (ACES) find fun ways to release toxic stress to avoid future mental and physical health issues.
---
Kwema created the world's first smart badge reel containing a hidden duress button that empowers clinicians to unobtrusively call for help when facing patient violence.
---
MyRuck is Intelligent Automation for military connected community benefits.
---
Noveil founded by Michael Allotey and Kendrick Barefield
Noveil is a dating platform with no profiles and no swipes.
---
Ownors Technologies Inc. (Bump) founded by James Jones Jr.
Bump is building a suite of fintech products to help millions of creators globally make the right business decisions, unlock access to capital, and prioritize the greatest levers for growth. Everyday the Bump team works hard to solve the problems of loss of income, lack of credit options and easy-to-use business growth tools by removing financial barriers so that creators can share their genius with the world, uninterrupted.
---
Productions.com founded by Carolyn Pitt
Productions.com is the talent solution that connects brands to vetted local production talent, saving them time and money in the process.