Life is Redesigned Through Innovation at the Long Beach Accelerator #ThisIsSoCal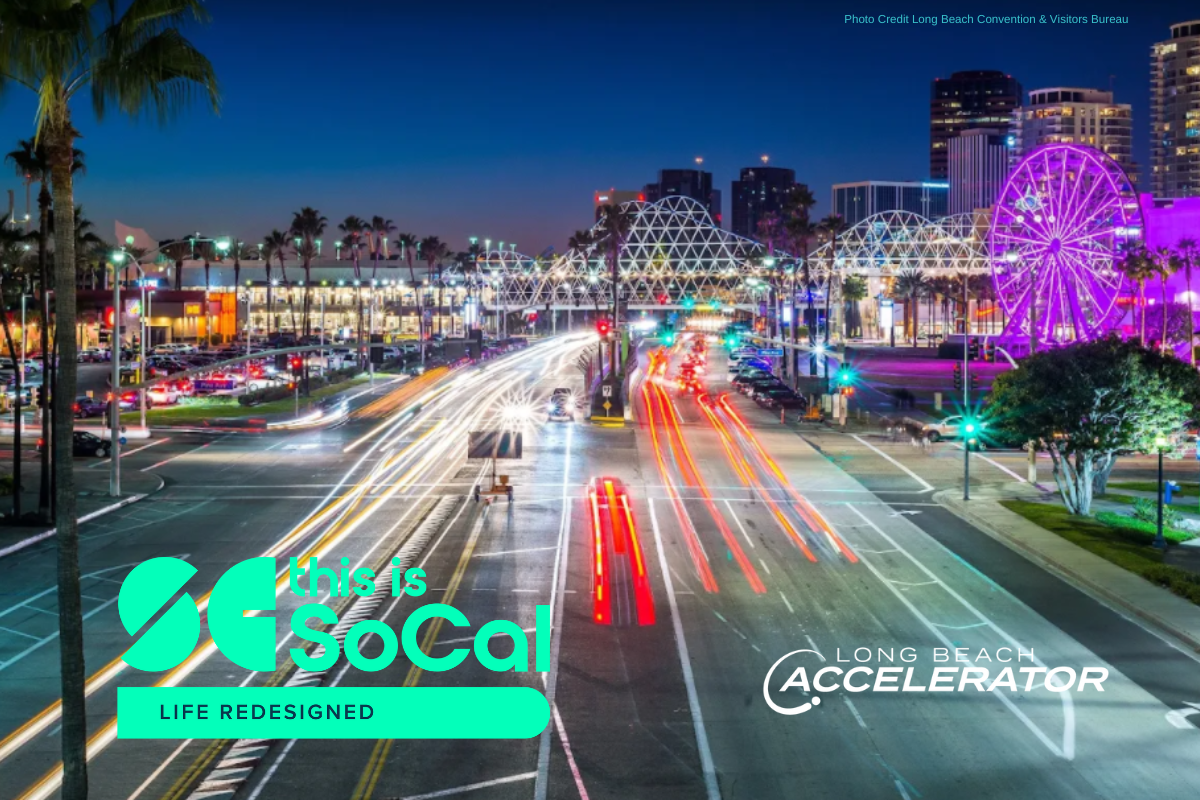 by Jame Cronk | LONG BEACH, CA (May 12th, 2022)
Based in Southern California, the Long Beach Accelerator supports founders that are lovers of life and pioneers of progress
---
The future is defined by those that dare to create, innovate, and redesign the way we live. The Long Beach Accelerator is redefining what tech startup accelerators look like and can accomplish. Our public-private partnership brings together the strengths of our dynamic region allowing us to better serve the innovative startups and entrepreneurs in our community. Here in SoCal our sense of freedom enables us to craft our own lifestyle without being impeded by rigid social and cultural structure.
#ThisIsSoCal
---
Entertainment Redesigned: Zero Infinity One
Zero Infinity One founder Mike White has been an entrepreneur most his life, being quick to identify opportunities and having the grit to take quick action. Identifying trends in virtual reality, augmented reality, and virtual entertainment, Mike founded Zero Infinity One with the goal of providing an unparalleled virtual experience for venues and consumers.
Zero Infinity One's proprietary system will allow remote users to virtually join together in venues, allowing venues to offer 24/7 access 365 days a year to users. ZIO is redesigning life as it will allow for greater human connection across the globe, all on a virtual platform.
At the LBA's Demo Day for their 3rd Cohort, ZIO demonstrated their technology allowing virtual participants the opportunity to remote into our live in-person event. As the world looks for new ways to connect, technology like what is being developed by Zero Infinity One will allow greater ways to connect and engage.
---
Convenience Redesigned: Sesame
Founder of Sesame, Sarah Lynch, is redefining convenience through their AI Smart Fridges that allow for greater convenience in apartments, dorms, hospitals, and really anywhere you can place a fridge! Their smart fridges allow for an alternative to the steep fees of delivery services by allowing for fresh food that can be easily accessed. Sesame saw Los Angeles and the greater So Cal region as a perfect fit for their next launch as Sarah notes, "the LBA has been the perfect partner fit to leverage connection in the area, and is serving as an irreplaceable foundation for growth in the SoCal area."
---
"The Long Beach Accelerator (LBA) has been the perfect partner fit to leverage connection in the area, and is serving as an irreplaceable foundation for growth in the SoCal area." - Sarah Lynch, Founder of Sesame
---
Care Redesigned: Guardian Lane
Guardian Lane, founded by Kristina Jones seeks to provide care to youth experiencing trauma at the moment they need it. Their approach to providing therapeutic services to young people allows for greater flexibility as parents and children can access remote content to process through difficult emotions without needing to schedule or attend in-person sessions. 
---

In SoCal, we apply an entrepreneurial approach to the way we live out our lives. Our active lifestyles, passion for entertainment and sense of freedom enables us to carve our own paths without being impeded by a rigid social or cultural structure–and the same applies to the way we work. As a result, we're constantly exploring, reinventing and pursuing progress
---
About the Long Beach Accelerator
The Long Beach Accelerator is not your typical accelerator. It was established with the entrepreneur in mind with full support from the city, private investors, and CSULB. Program participants have access to capital to support them through acceleration and expansion. Cohort members have real government access to help navigate through the regulatory maze and provide resources and guidance at every level. They also have access to key university and industry partners and some of the largest markets in the world. The LBA is focused on providing exceptional vision and value to this ecosystem, and in seeking out and supporting companies founded by diverse entrepreneurs.
SoCal brings together talent, entrepreneurs, investors, research establishments and supportive media in a way that no other region in the world can. Here, we have an entrepreneurial approach to life, unlimited dimensional diversity and an open invitation that brings unstoppable talent into the fold with boundless freedom to explore-all to create positive global impact. As a result, our innovative ecosystem sparks some of the most unique collaborations between a wide range of sectors to identify and solve the most complex issues facing people and the planet today. Together, we're capturing the attention of the world-and we're just getting started.