The Long Beach Accelerator Puts People and Planet First #ThisIsSoCal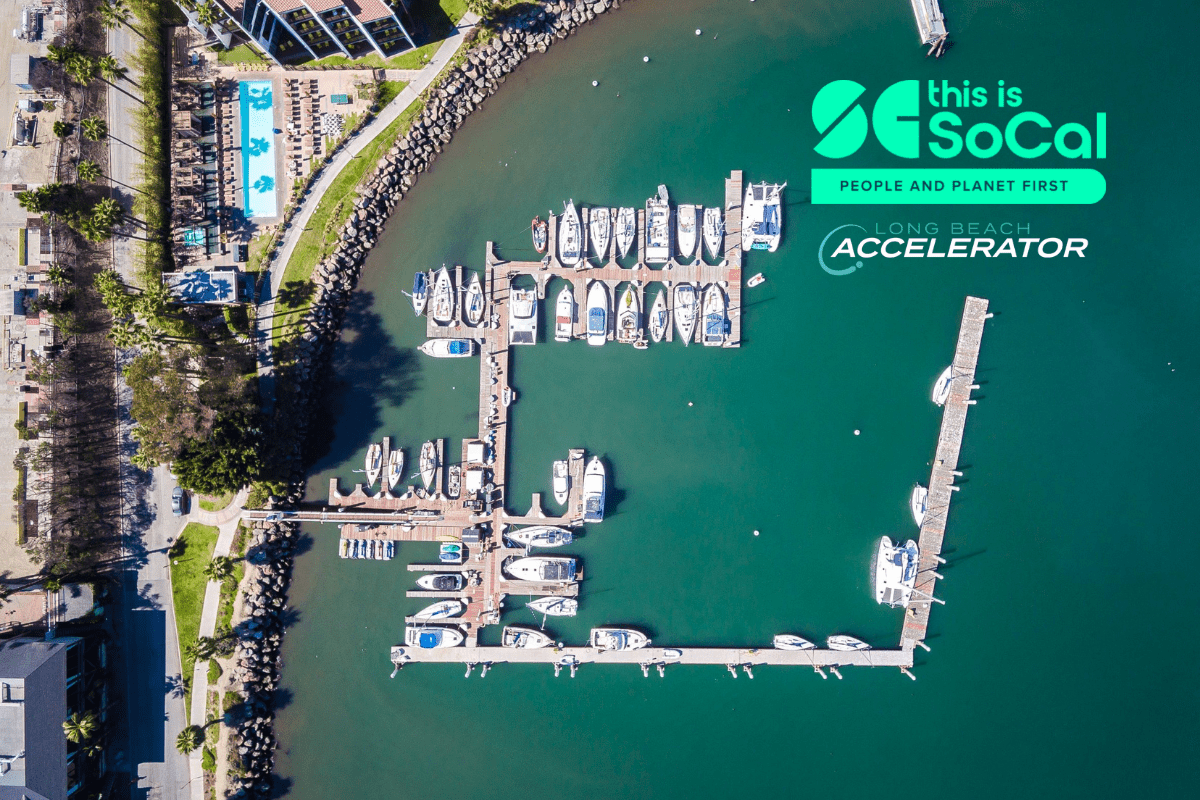 by Janelle Cronk | LONG BEACH, CA 
Based in Southern California, the Long Beach Accelerator puts people and planet first in our efforts to give startups the resources and runway to flourish
Here at the Long Beach Accelerator we believe in People and Planet First. That means we take a proactive approach to selecting and supporting tech startups that prioritize the future of our environment and the people in it. We know that tech innovations that are truly meaningful will positively change the future of humanity in unthinkable ways. Operating out of the City of Long Beach, home to the largest port system in the Western Hemisphere, we are no stranger to the environmental burdens of today's logistical landscape. We believe that technology can and should be part of the solution in addressing our planet's most pressing issues. We aren't alone in this belief, the entire SoCal region is committed to finding the most effective and innovative solutions for our shared future. #ThisIsSoCal
---
Stepping off the Metro into the streets of Downtown Long Beach, one will be quick to realize this is a city that cares about sustainable solutions to daily life. As the city can be easily navigated without a car, Long Beach is truly a walker's paradise, and a bikers dream. Long Beach's sustainability initiatives go well beyond encouraging clean transportation. The City of Long Beach's dedicated Office of Sustainability seeks to develop and implement sustainability programs and provide practical solutions to improve the environment. Among their program offerings are internship opportunities for Green Businesses, GIS Support and Native Plant Restoration.
One example of the incredible and innovative work being done right here in Long Beach originates from the Long Beach Accelerator's 2nd Cohort company, Closed Loop Plastics, whose mission is to close the loop on plastic waste. CLP is working to broaden the types of plastic materials that can be recycled and reused. Through their proprietary technology, they are able to process types of plastic like Type 6, High Impact Polystyrene, which is still largely underutilized. It's innovative solutions like these that take an existing problem and provide solutions that will have a lasting impact on people and the planet.
---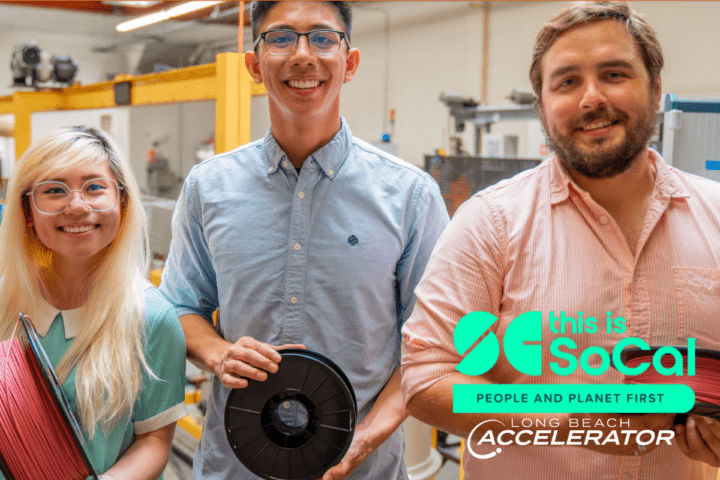 ---
Co-Founder and Co-CEO Will Amos is well aware that "plastic pollution is drastically harming our planet. However, getting rid of plastic at this point is not a viable option for anyone. By creating an engineering solution, and making plastic waste highly valuable, we can turn an ecological crisis into a community resource. By creating a process and resources where manufacturers, consumers, and communities can buy in so easily, we've also created a solution that puts people and the planet first and uses the profits as a means for growth rather than a means to an end."
---
"By creating a process and resources where manufacturers, consumers, and communities can buy in so easily, we've also created a solution that puts people and the planet first and uses the profits as a means for growth rather than a means to an end." - Will Amos, Co-Founder and Co-CEO of Closed Loop Plastics
---
The Closed Loop Plastics team is made up of three SoCal Engineering grads from the University of California Irvine. Sharon To, Will Amos, and Aldrin Lupisan founded CLP to address sustainability concerns. Growing up in Long Beach, Co-Founder and Co-CEO Aldrin Lupisan, volunteered at the Aquarium of the Pacific garnering an appreciation of our ocean ecosystem and environment. 
Chief Technology Officer, Sharon To, notes that "many people whom we've come across over the past few years have grown almost cynical when it comes to sustainability and recycling." Sharon hopes that the work of CLP can overcome this cynicism and "inspire trust in our systems, and potentially even more fresh ideas from people, on how we can all work together to make our planet a better place." The unique solutions developed by the CLP team carry this respect for the environment and "ensure there is little to no damage to our water and air." 
---
"Closed Loop Plastics and others who are striving for a truly sustainable and closed-loop ecosystem will benefit the overall physical health of our global community. We're no strangers to plastic pollution and its detrimental effects on our quality of life from the foods we eat and the water we drink to the air that we breathe. But more importantly, our mission and our goals can instill hope within our communities that there are actually people who care about solving this global problem, and that it can, in fact, be fixed." - Sharon To, Chief Technology Officer, Closed Loop Plastics
---

We're here to make a difference in the lives of others—and not just in our backyard but across the world. We genuinely care about helping people and the planet, and it's a cause to which we are completely devoted. Whether through job creation, unlocking solutions for currently untreatable ailments or paving the way for clean transportation—we look outwards, not inwards, developing tech innovations that are truly meaningful and will positively change the future of humanity in unthinkable ways.
---
While based in Long Beach, the Long Beach Accelerator seeks to support startups from any locale seeking to put people and planet first. Our Cohort 2 company, SenseGrass, is based in India, and is focused on providing essential agricultural technology whose benefits will be felt globally. SenseGrass is a team of #agropreneurs with farming ancestry, their smart farming solution for fertilizers management gives farmers the tools needed to increase crop yields and solve agricultural issues with one software.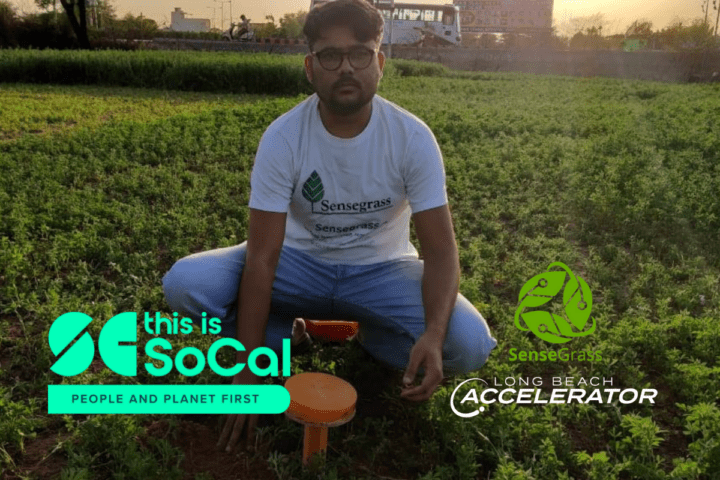 Founder of SenseGrass and LBA Alum, Lalit Gautam, is a third-generation farmer and a thought leader in the agricultural and farming industry. Gautam consistently shares his expertise openly through community and university-led events. Gautam was motivated to start SenseGrass after "doing some research and noticing that agriculture is a very broken industry, especially in developing nations." Gautam and team "launched the idea of SenseGrass [in 2018] with high-end technology, focusing on efficient solutions for small-scale farmers because they are the majority of global farmers."  Sustainable farming practices, like those introduced by SenseGrass, will provide a pathway to a future of more reliable food sources for people and the planet.
---
"SenseGrass is a green company. More than the business side, our core impact or mission is very simple," says founder, Lalit Gautam, "we reduce the fertilizer, we reduce the carbon emission, we reduce the ammonia, improve the income of the farmer and completely focus on the biodiversity and making the land and soil more fertile. So, our idea is completely social impact."
---
The work of companies like SenseGrass and Closed Loop Plastics provides hope for a future that prioritizes our shared humanity through finding sustainable solutions to life's most pressing challenges. The Long Beach Accelerator is proud to support companies and founders doing the incredible work of putting #peopleandplanetfirst.
#ThisIsSoCal #LaunchBeach #PeopleandPlanetFirst #sustainability #Food #agtech #farmingsolutions #sustainableagriculture #plasticrecycling

About the Long Beach Accelerator
The Long Beach Accelerator is not your typical accelerator. It was established with the entrepreneur in mind with full support from the city, private investors, and CSULB. Program participants have access to capital to support them through acceleration and expansion. Cohort members have real government access to help navigate through the regulatory maze and provide resources and guidance at every level. They also have access to key university and industry partners and some of the largest markets in the world. The LBA is focused on providing exceptional vision and value to this ecosystem, and in seeking out and supporting companies founded by diverse entrepreneurs.
We hope you'll join us at an upcoming event or apply to join our next cohort!
SoCal brings together talent, entrepreneurs, investors, research establishments and supportive media in a way that no other region in the world can. Here, we have an entrepreneurial approach to life, unlimited dimensional diversity and an open invitation that brings unstoppable talent into the fold with boundless freedom to explore-all to create positive global impact. As a result, our innovative ecosystem sparks some of the most unique collaborations between a wide range of sectors to identify and solve the most complex issues facing people and the planet today. Together, we're capturing the attention of the world-and we're just getting started.